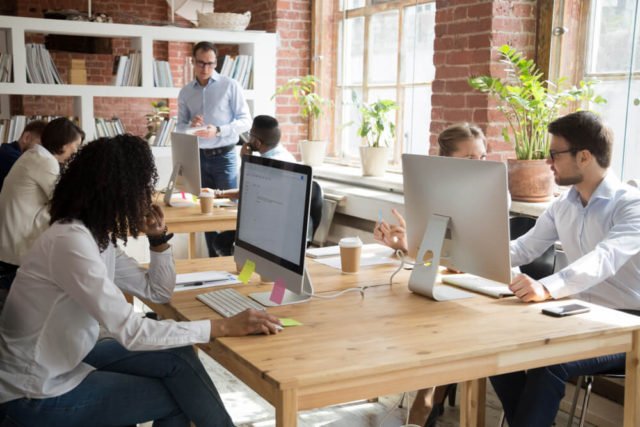 In the past year, Pakistan has seen a steady increase in the number of shared office spaces, which attempt to unite small business owners, freelancers, remote employees, and individual entrepreneurs below one roof with accessibility to a well-equipped workspace.
During the pandemic, small businesses, as well as major companies, temporarily shut down, and employees totally relied on work from home. This change proved that it's not necessarily important for people to go to the office and they can work on their own. However, it was a more fruitful decision for companies because it cut down various costs, but for most of the employees, this change came with a lot of adjustments.
Lockdowns are now almost lifted, and office routines are resuming, but a lot of companies are still looking to operate remotely, which is a problem for employees. Imagine someone spending all their life working in an office environment, and now they are so accustomed to it that the concept of working remotely makes them less efficient and productive.
Also, we saw a great rise in the number of people moving to the freelance industry because they lost their jobs or had to sit at home because their academic institutions were under lockdown. A rise in freelancing led to the rise in the use of shared office spaces as well.
Shared office space is where a bunch of people from different sectors and jobs work on their respective tasks in an office setting. Each of them has their jobs, some of them are entrepreneurs, and some of them are freelancers. It's a place where they can make use of a professional environment to stay focused and innovate new ideas.
As of today, there are only a little over a hundred shared office spaces in Pakistan. This number is very low as compared to other parts of the world. There are about 5000 coworking spaces in the USA, but then again, they are greater in both population and area, and the trend of shared working spaces has fairly recently found some popularity.
Co-working offices have sprung up all across the country as a result of the informality of workplaces and professions, professional and social isolation, and an emphasis on the importance of flexibility in work conditions.
Co-working facilities have rapidly become the 'first option' for working professionals and emerging start-ups, thanks to a lively and evolving millennial seeking new working methods.
The workers have revamped the possible future of working style. The era of the production line, where each and everything was a rational process, are completely forgotten. The need for shared office spaces in Pakistan has been underlined by the shift in the workforce from organized to disruptive. According to a Clutch survey, almost 53% of professionals evaluate workplaces on the grounds of flexibility, convenience, and adaptability.
Undoubtedly, everything in today's world is more interconnected, linked, and diverse than it was in the old national economy's insoluble structures. Co-working facilities have posed a significant alternative to the typical workplace mentality. As a result, the emphasis on flexibility and cooperation in the utilization of space has shifted.
In a co-working environment, if you're an entrepreneur from a startup, a freelancer or an investor, you must learn to accept the innovation and become exceptional at dealing with independent thoughts instead of fighting them.
There appears to be a substantial shift in Pakistani workplace culture, particularly in big cities such as Lahore, Karachi, and Islamabad, where shared office facilities are springing up everywhere. We may not have the possibility to change, but we choose to determine how effectively we adapt in response to it.
Although the concept is still very much in the infancy stage in Pakistan, getting a bunch of people to come together allows for cooperation and makes things much easier for companies.
Coworking spaces allow networking which is incredibly crucial for businesses and freelancers. Individuals may join a dynamic community of people with similar interests and intellect in shared office spaces, which gives them the opportunity to network, exchange ideas, and assist various projects.
Working at home is easy and cost-effective, but it may also make you feel isolated at times. In addition, proficient networking is difficult to do in a homely environment.
Bolchaal Pakistan is in need of motivated entrepreneurs stepping up and creating big businesses out of their ideas to help stabilize the economy. Entrepreneurs may use coworking spaces to construct a diversified professional and effective network, which is essential for all businesses as they create their processes, plans, clients, consumers, assets, and, most importantly, inspirations.
The most significant advantage of coworking spaces in Pakistan is their relatively inexpensive costs, and we believe everyone can take advantage of this.
In large cities, the rental cost or leasing professional office space may be rather expensive. You must also account for other costs such as office furniture, other utilities, facilities, and maintenance. All of these costs make renting an office space for a company extremely tough in its preliminary phase.
Instead of putting the money into an office and worrying about the increasing rents, you should opt for a shared office space. Coworking spaces in Pakistan do offer private offices for a group of people.
You can book a desk, a personal office if you like privacy and a large private space according to the number of people in your team at affordable rates. Of course, a few shared spaces are more expensive than others because of their amenities and locations, but with a little exploration, you may certainly discover a package that meets your needs. Entrepreneurs, companies, and freelancers may work in a peaceful, professional setting without spending a lot of money by using these affordable office spaces.
As far as coworking spaces go, providing a space in which employees feel at ease and can do their finest work is critical to their achievements and success. And the new generation of customized co-working spaces is rapidly upending the traditional and old workplace environment.
As Pakistan is moving towards a better future, let's hope we can also develop a sense of collaboration and accept the rise of shared office spaces on a wider level.

Bolchaal is a platform of passionate writers who want to aspire others through the amazing ideas they have relating to our beloved homeland "Pakistan".