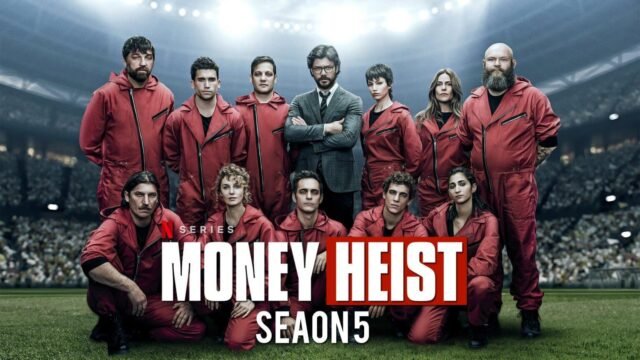 Due to the pandemic, many people got time to enjoy some really good shows on different platforms such as Amazon Prime and Netflix. 
Since some series or shows are very addicting and leave a different kind of mark in the heart of the viewers the Spanish series "Money Heist" is one of them. It has gained a lot of popularity since it was released on Netflix within no time and is liked by youth all around the world. 
It has recently released its finale which is "season 5" after the wait for almost one long year leaving their fans super frustrated because it released its 3rd and 4th season back to back within a short period. So, a year's wait was very cold and long.
It still left me amazed and is unbelievable for me to understand that how can this series' season 1 was a flop when it was aired on Spanish TV and now the world is raising it.
A little background
At the beginning start of season 1, the mastermind named the professor had plans to conduct a historical robbery for which he gathers eight people who don't have any weakness or anything to lose and has different abilities that make them unique, to execute his plan to rob the Royal Mint of Spain. The robbers take 67 hostages throughout the robbery and finally escaped with millions of Euros.
The robbers were not allowed to share any personal details nor develop any emotional connections to avoid any misconduct.
The professor and his crew robbed many different spots and escaped without being caught. The professor's mind and the skill of his team are undeniably incredible that keeps the viewers hooked up.  
Main Cast and Characters:
Úrsula Corberó as Tokyo she was a runaway robber and known as an unpredictable speaker as well.
Paco Tous as Moscow who is Denver's father and minor criminal
Pedro Alonso as Berlin he was professor's second command as well as a terminally ill theif.
Alba Flores as Nairobi The in charge of money printing.
Miguel Herrán is Rio who is Tokyo's boyfriend and a hacker.
Jaime Lorente is Denver Moscow's son.
Darko Perić is Helsinki a veteran soldier, who is Oslo's cousin as well.
Roberto García Ruiz as Oslo, Helsinki's cousin, and Serbian soldier.
And Álvaro Morte as The professor, the Mastermind of all.
La casa de Papel or Money Heist Season 5 (The finale)



As per the sources the makers of the show will be releasing two parts of Money Heist season 5. Part 1 has already been released on September 3rd,2021 and the second will be released in December 2021. 
The fans somehow are disappointed and sad that this season will be the finale due to the covid-19 pandemic. But still, the excitement for the release of this season is very enthusiastic.
On September 3rd, 2021 at midnight most of the people were refreshing their Netflix to watch the first part of the final season.
 This season is somehow the beginning to an end. The table has now been turned for the professor and his team that never even for once got busted. Maybe, the slap of karma. In the initial parts, it's about survival since the professor is busted and the rest of the team is trapped in the bank of Spain. What are the chances of their survival? There are many unanswered questions like will they survive or manage to escape? Will the professor die? Will they succeed and live their life peacefully? Does the professor has plan B?
 Since they've come past the line of right and wrong, and any of their circumstances don't justify their crimes. So yes, there's always a price to pay.
 This season has got many stars by the viewers overnight, people have enjoyed and entertain, the response was outstanding but the half release of this season has left viewers wondering and more curious about what will happen next. Volume one will surely have you glued to your screen and obviously will leave you terrifically anxious until the release of volume 2 in December 2021. Obviously, the audience is expecting the ending to be as inclusive and up to the mark as it always was. 
Munis Khan is a Digital Marketer and content producer who build innovative ideas and content to promote various products of the company in the market. He aims to extend his assistance in B2B and IT marketing by his engaging blog.