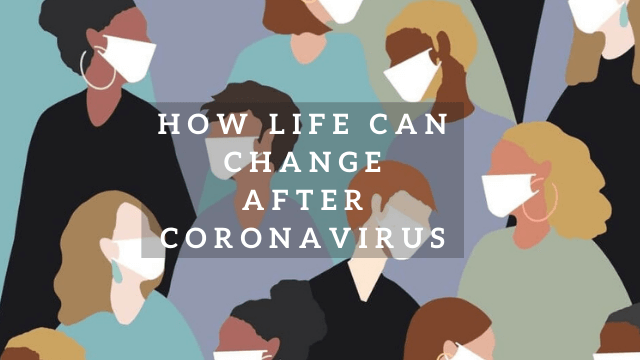 Coronavirus is a transmittable disease caused by a newly discovered virus. People who get affected by it experience mild to moderate symptoms and recover without any special treatment. The virus that causes COVID-19 is mainly transmitted through droplets produced when an infected person sneezes, exhales, or coughs. The droplets are too hefty to hang in the air and immediately fall on the surfaces. In coronavirus, a person can be infected by breathing in the air when you are within proximity of someone who has coronavirus.
Day by day, Covid-19 has changed the way people live around. No work, no social interaction, no travel, and the thrust on populations across the globe by disrupting the coronavirus pandemic. Values have changed; our lives, habits, and even homes have changed under the influence of coronavirus. Life after the Covid-19 outbreak is not the same.
With that in mind, we have discussed a few of the major changes that have occurred. However, in this article, we will highlight the important factors that are not normal after Covid-19.
1. Education

The student population got highly affected globally. Schools, colleges, and universities became closed due to the spread of the virus. Many soon-to-be school leavers have had their exams canceled or moved to online. Suddenly we have been thrown into an experimental period where students can't access the libraries, and even parents have become homeschoolers overnight.
For any institution's classes have moved online that has been less successful for a young student as its effectiveness is primarily dependent on how much parents pay attention and willing to help kids. It has also relocated to online learning for college or university students, allowing the foundation for some more long-term educational changes.
Kids are bound at their homes, so it has become tough for them to stay at home and for parents to engage them. Therefore, life has become more challenging now.
2. E-commerce

Living in this pandemic situation has become tough for people, and Covid-19 has affected almost everything. The economy is crashing, businesses are at a loss, and people only buy the stuff they need, as the future is somewhat unpredictable.
The lockdown restriction has shut the stores, malls, shops, and even companies; almost everything got shut. It has left IT companies and e-commerce to work from home. Therefore, e-commerce has increased exponentially but still facing issues delivering the order in time.
However, Covid-19 has somehow made a positive impact on online shopping, whether it's clothes, health products, or grocery. People have no freedom to roam around; thus, it has become tough to meet their necessities. In this case, e-commerce has become the ultimate solution for people.
It benefits e-commerce businesses as well, and people can frequently buy products for their needs from their homes' comfort. Additionally, online shopping is expected to expand further due to social distancing. People are not allowed to spend much time in a public place. So, it has become an easier way to get the get of their needs.
3. Hygiene Habits
Handshakes are one of the behaviors that always seemed comfortable before Covid-19, but that may not get popularity again afterward. Things like regular hand washing and wearing face masks out of the house have become a compulsion during this coronavirus pandemic situation. The practice of wearing a mask has become a social norm; the masks were originally recommended to stop the flu and sneeze contagion.
Consequently, the hygiene habits are the same but now has increased due to the Covid-19 crisis as hand sanitizing and social distancing practices have never been enacted on such a global scale before.
4. Food Supplies
The Covid-19 crises excelled a light on food supplies, too; consumers worldwide have faced sparingly limited supplies, stocked shelves, and the food shortage. Many parts around the globe highly rely on the centralized system, so it became tough for them to get the food easily. Covid-19 made the household livings and life tough.
5. Businesses
Colleagues in the office practicing alternative greeting for safety and protection during COVID-19Businesses are trying their best to support their employees, but the Covid-19 has affected everything. Due to this pandemic situation, sales massively declined, which became a challenge for businesses also for employees.
The first response that people are getting to declining revenues is downsizing to cut costs. People are remotely working, and life is not the same. The world is responding to coronavirus with social distancing, curfews, countrywide lockdowns, and more. People are facing several other issues like salary reduction, more workload, meeting deadlines, and so on.
The Second Wave
The fear of coronavirus is not ended yet, as some countries like Pakistan still involved in this corona disease and getting infected.
Pakistan has continued to surge in coronavirus cases, and the second wave's terror has been started in the country. It is expected that the second wave is more dangerous, and now the strict restrictions to control the spread of the coronavirus disease have become inevitable.
Aleena Gill is a professional content writer who works with B2B businesses providing digital marketing content that gains audience attention and increases their search engine visibility.