Pakistan's largest city, Karachi, is a microcosm of the nation, showcasing its colourful culture, varied entertainment options, and delectable food. The city's excellent restaurants, which serve cuisines from all over the world, are a reflection of the cultural variety of its people and their interests.
The residents eat biryani like it's the end of the world, therefore it's fair to say that it's one of the things that makes this city unique. Their adventurous spirit in preparing the royal mixed rice dinner has led to a deeper appreciation for the origins of the cuisine all over the world.
Whether you're in Karachi for work or play, don't pass up the opportunity to sample the best biryani near me in the city at one of the many excellent eateries.
Food Centre

Spicy and flavorful, the biryani here is a must-try. Since 1996, it has expanded to four locations around the city, all of which are thriving businesses. You may get anything from Chinese to continental to fast cuisine and more. The biryani at Food Centre is the most popular menu dish, and for good reason.
The Food Centre has lots of seating for diners, and they also provide takeout and delivery. You might use their one-of-a-kind catering services for any of your events.
Address: Main، Burns Road, Karachi
Phone: (021) 111 000 606
The White Biryani
If you're in the mood for the best biryani spots in Karachi, you've found it. Indulge in mouthwatering dishes like shami kebab, chicken biryani, and mint raita by placing an online order and having them delivered straight to your door.
Almond, saffron, and sweetened milk come together beautifully in kheer pudding, making it the ideal dessert to round up a delicious dinner. This dish's spicy and savory taste of seasoned rice, juicy chicken, and delightful curried sauce is guaranteed to satisfy your want for comfort food any time of day.
Address: 22c Rahat Commercial Lane 2, D.H.A Phase 6 Rahat Commercial Area Phase 6 Defence Housing Authority, Karachi.
Phone: 03331300991, 033313009921
Allah Wala Biryani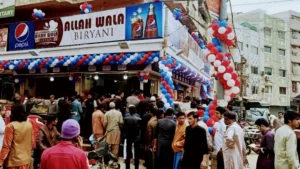 If you're craving beef biryani in Karachi, you must have Allah Wala's Biryani. Their beef biryani is unquestionably the best in town. They have chicken as well, but the beef Biryani is very exceptional.
Address: A27/1 khudadad colony society office single, Block 1 Khudadad Colony, Karachi.
Phone: +92 311 1111292
Biryani Centre
Biryani Centre has been delighting clients with its extensive menu of mouthwatering biryanis since its beginning in 2001. Their biryani, prepared in a pot, has a unique taste thanks to their own spices and age-old cooking methods.
The authentic regional food and the extensive buffet are fantastic values. Here you may have authentic biryani in a stylish and energetic atmosphere.
Address: Phase 5 Plot No, 12-C 26th Commercial Street، Phase V Tauheed Commercial Area Defence V Defence Housing Authority, Karachi
Phone: (021) 35838582
Ghousia Nalli Biryani
Almost every Karachiite has eaten at Ghousia, whose Nalli Biryani was among the first of its sort in the city.  They also provide chicken and beef biryani, beef Nalli biryani, and so on, but the most popular dish is the Nalli Biryani, which has tender bits of marinated meat.
Address: 2/240, Liaquatabad Commerical Area, Main Sarafa bazar, Block 6 Liaquatabad Town, Karachi.
Phone: 0300 2106954
Premier Biryani
Popular with locals and travelers alike, this casual restaurant is recognized for its delicious biryani offerings and comfortable indoor seating. The biryani and other meat dishes at this restaurant are excellent, yet the prices haven't changed much in decades.
The menu's chicken biryani, haleem, shami kebab, and special zarda are the most often praised items among regulars. Even though the biryani is excellent, you can also order other non-vegetarian dishes at this restaurant. It's also handy since it's a breeze to get there from everywhere in the city.
Address: Shop No 4 & 5, Billy's Towers, Main Rashid Minhas Road, Karachi.
Phone: 0336 6234003
Biryani Of the Seas
One of the best biryani spots in Karachi to have fish biryani. The chicken and prawn biryani are excellent, and the spice level is about right, not overdone as at some other eateries in the vicinity. Because of the generous servings, the price per kilo is quite low.
This restaurant is perfect for social gatherings, but it's also fantastic for business conferences, heated discussions, parties, and other special events. You and your loved ones will have a great time at this restaurant every time you visit.
Address: Prince Complex Clifton, Between Clifton Bridge, & PSO House St, Karachi.
Phone: 0346 3339347
Indus Foods
If you're in Karachi and want traditional Pakistani food, go no farther than this eatery, which offers you tasty biryani at a fair price.
They have the best chicken-to-rice ratio in Karachi, along with just the proper amount of spice and enough of the staple food. Nihari, Haleem, chicken korma, chicken biryani, and kheer are among the house specialties.
Address: Plot No, Khadda Market, 11-C Stadium Lane 2, Phase V Stadium Commercial Area Defence V Defence Housing Authority, Karachi.
Phone: (021) 35343102
Daily Dubai Restaurant
The kebabs and seafood dishes at Daily Dubai are a must-try for any first-timers to Middle Eastern or Pakistani cuisine. The restaurant is perfect for a quick and tasty lunch on the go or for times when you don't feel like cooking and would rather order in because of the extensive menu.
This is one of the few places in Karachi serving authentic Arabian Peninsula cuisine, and it frequently provides promotions and discounts.
Address: 57-C Badar Commercial Street 10, Phase V Badar Commercial Area Defence V Defence Housing Authority, Karachi.
Phone: (021) 35244017
Naseeb Biryani
Karachi's Famous Biryani Locals love Naseeb Biryani for its delicious spice mixture and tender chicken. Although the restaurant's interior design might need some updating, the quality of the cuisine remains unchanged. They have shops at Cantt Bazaar, Malir Cantonment, and many other parts of Karachi.
Address: 75460 Mehmoodabad Rd, Karachi Administration Employees Housing Society Block 8 KAECHS, Karachi.
Phone: 0302 7868707
Madni Biryani
We promise that you will not find better biryani anyplace else. The restaurant is famous for its excellent biryani and its spectacular buffet, both of which are available every day of the week at extremely affordable costs.
Each item on the menu, from Chicken Nahari to Taza Fry Fish to Shree Mall to Khamiri Roti, has its own unique taste profile and is wonderful on its own. The restaurant stands out from the crowd because of its special dishes, which use fresh, homegrown herbs and spices.
Address: R-31, Sector 15-A/5 Sector 15 A 5 Buffer Zone, Karachi.
Phone: (021) 36973131
Student Biryani
One of the oldest best biryani spots in Karachi is Student Biryani, a food vendor having restaurants throughout Pakistan, Canada, Australia, and the United Arab Emirates. While relaxing in this serene environment, indulge your appetites and quench your thirst in style.
A few of the many delicious dishes you may have here are the chicken crispy burger, boneless chicken tikka, aloo qeema, and chicken biryani.
Address: Van St, Empress Market Central Jacob Lines, Karachi.
Phone: (021) 111 111 778
Jeddah Biryani
Jeddah Biryani is another best biryani spots in Karachi. The richness of spices and meats in this Biryani ensures that even a single meal will leave you wanting more. Your taste senses will be clamoring for more even after your stomach is full because it is so delicious. To top it all off… You may choose from a wide variety of biryanis and make them as mild or spicy as you want.
But wait, there's more! While their Biryani is legendary, Jeddah Biryani also serves a number of other delicious options. They put the same amount of love and care into their spicier Chicken Qeema and creamier Chicken Qorma as they do their world-famous Biryani. Whether you're in the mood for a hearty supper or a quick bite, Jeddah Biryani has you covered.
Address: Boat Basin Branch, Shop # 40-43, Commercial Sub Plot # FL-7/C/4 of Plot #، 7, Block No. 5, Shop#4, Shopping Arcade, Video Market, Block 5 Clifton, Karachi.
Phone: 0335 2290903
Shahi Biryani
Family packs, combinations, and extra masala biryani are available, and the food is some of the best in the neighborhood. If you like, you may substitute chicken for the mutton in the biryani and it would still taste great. Vegetarians will like the plain biryani much more than usual since it does not include any meat.
The meal's strong taste comes from the ground roasted spices and indigenous herbs, which pair well with the accompanying ginger raita. Locals love these eateries for the enormous buffets and wonderful traditional food, especially the biryani.
Address: Khayaban-e-Mujahid, Phase V Stadium Commercial Area Defence V Defence Housing Authority, Karachi.
Phone: 0300 2456048
Concluding Remarks
Karachi is known for its eclectic cuisine and cultural influences. In particular, the city's Biryani is famous for its unique and delectable flavor profile. Residents of Karachi take great pride in their city's role in the world's most famous Biryani rivalry, which pits Karachi against Lahore.
The city's cuisine is well-known for its sophisticated blend of flavors and fragrances. These are some of the best biryani near me to satisfy your biryani appetite in Karachi. These top-tier eateries are ideal for commemorating milestones or just unwinding after a long day at the workplace.
While you're out trying the city's diverse cuisines, you should stay at a few different hotels in Karachi to see what suits you best. Visit one of Karachi's many fantastic restaurants serving biryani.
Munis Khan is a Digital Marketer and content producer who build innovative ideas and content to promote various products of the company in the market. He aims to extend his assistance in B2B and IT marketing by his engaging blog.